Lighted Signs
VIEW GALLERY
How cool would it be for your business to outshine everything else in your neighborhood? A custom lighted sign will do just that!
Lighted signs can have various shapes and colors. One business may need to use several such signs, while others would only require one type of lighted or backlit sign. Your business may need signs other businesses don't. This is why you should hire a professional signage company to assess your needs and to create your signs.
The Minneapolis Sign Company is your trustworthy provider of custom illuminated signs for your storefront, lobby or front desk. We aim to become your long-term supplier of signs for all your business branding, identification or promotion needs.
Call The Minneapolis Sign Company today at (612) 260-5166 for a Free Consultation with a Neon Sign Specialist!
Traditional Neon Signs
Although the classic look of a traditional neon sign is still a viable option, many businesses avoid it because of its higher maintenance and repair costs. These signs are simply not worth the investment any longer. Modern LED lighted signs can offer the neon feel without the associated drawbacks. LED bulbs have a much longer lifespan, and are virtually maintenance free.
If you want a neon-like sign to speak volumes about the mission and the values of your business, but without the expense, you are welcome to contact us today. Our specialists will recommend you the ideal lighted LED sign to suit your business needs.
Lighted LED Signs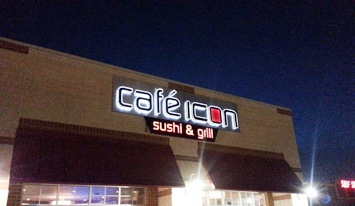 The neon look is easy to obtain by using low-energy LED bulbs. With these modern solutions, you can have the old retro vibe you need, but in a more environmentally-friendly manner.
LED lighting can power many types of signs such as channel letters and cabinet signs that require backlighting. Lighted signs are the only way for a night-time business to attract attention and to draw people inside. Restaurants, nightclubs, gas stations, and convenience stores can all benefit from this solution to alert passersby about their presence in the area.
Our LED signs are made to fit your brand personality and your specific requirements. We can customize them in your desired color, style or shape.
Indoor Lighted Signs
LED signs are good for more than storefront signs and neon replicas. They can be used indoors in the form of lighted Open or Closed signs. They can also help with promoting various aspects of a business. In a restaurant, for instance, they can help customers know when their order is ready for pickup. This can reduce anxiety and regulate the customer flow, as people will know for sure they will be alerted when their food will be ready.
These signs can be custom created to suit your creative ideas and your personal preferences. Whatever you can imagine, our graphic design experts can bring to life.
Programmable Digital Message Centers
If you want to give your business a modern touch, you may want to use a custom, programmable LED message center sign. These signs are eye-catching and effective, and they can be used alone or in combination with other signage materials.
LED message centers offer you more benefits than standard neon signs. You can update their custom messages at any time, the process being easy and straightforward. The graphics can also be quite impactful, some of these models featuring full-color display.
Full-Service LED Sign Company
We are always ready to assist you with all stages of your signage project, from design to production, installation, and repairs. A sign made by us will always look its best, as we use only high-quality materials and skilled installation and maintenance, technicians.
As a full-service sign shop, we can produce any type of sign you may need such as ADA signs, storefront signs, and various displays and vinyl wraps.
Free Lighted Signs Consultation
Outshine your competition with custom lighted signs by The Minneapolis Sign Company!
Call The Minneapolis Sign Company today at (612) 260-5166 for a Free Consultation with a Neon Sign Specialist!